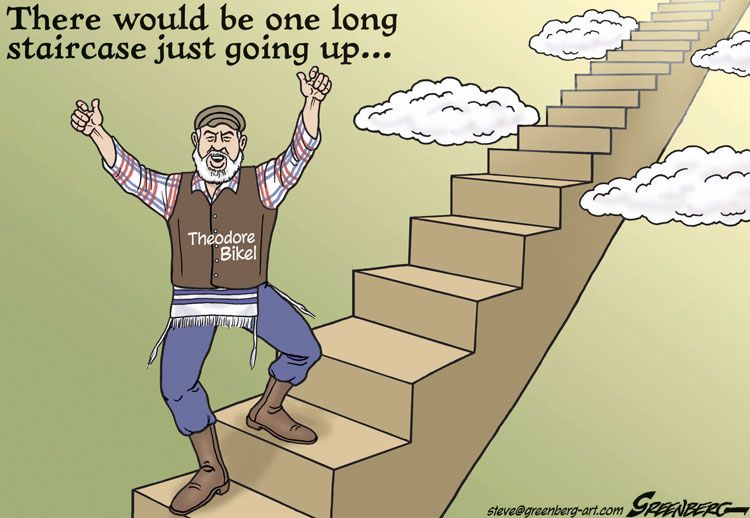 Memorials and obituaries for Theo z"l
(click for full article)
"Actor, singer and activist Theodore Bikel grew up in a second-floor apartment in Vienna where the family book collection included a 20-volume complete works of Yiddish storyteller Sholem Aleichem. 
In 1938, the family fled the Nazis, leaving almost everything behind. But the words and spirit of Aleichem, whose works were the basis of the musical "Fiddler on the Roof," followed Bikel the rest of his life. 
"I find as time goes on," Bikel said in a 2014 documentary, "that I am walking in his shoes, as a man, as an artist, as a Jew."......"
The Washington Post   Theodore Bikel, singer, activist and Oscar-nominated actor, dies at 91- by Matt Schudel
(click for full aticle)
"In a career of almost 70 years, the Austrian-born Mr. Bikel was nominated for an Academy Award for best supporting actor in "The Defiant Ones," a 1958 film starring Sidney Poitier and Tony Curtis as escaped prisoners in the South. 
Before he was cast, Mr. Bikel protested to the director, Stanley Kramer, that he was neither Southern nor American. "A good actor is a good actor," Kramer told him. 
Mr. Bikel, who could speak nine languages and sing in 21, had a parallel career as a folk singer and social advocate. In 1959, he helped found the Newport Folk Festival in Rhode Island......."
"
The New York Times    by Richard Severo and Ralph Blumenthal
Theodore Bikel, Master of Versatility in Songs, Roles and Activism, Dies at 91- by Richard Severo and Ralph Blumenthal
(click for full article)
"In his autobiography, "Theo," first published in 1994 and revised in 2002 and 2014, he wrote with scant modesty that he was often asked "which of the many things I do I enjoy most." 
His answer: "Versatility in itself." 
And so on television Mr. Bikel played an Armenian merchant on "Ironside," a Polish professor on "Charlie's Angels," an American professor on "The Paper Chase," a Bulgarian villain on "Falcon Crest," the Russian adoptive father of a Klingon on "Star Trek: The Next Generation," and an Italian opera star on "Murder, She Wrote." 
He also played a Greek peanut vendor, a blind Portuguese cobbler, a prison guard on Devil's Island, a mad bomber, a South African Boer, a sinister Chinese gangster, Henry A. Kissinger and a misanthrope who gets his comeuppance on "The Twilight Zone." 
In movies he played several German officers, beginning with "The African Queen" (1951); a compassionate Southern sheriff in "The Defiant Ones" (1958), for which he received an Academy Award nomination; the king of Serbia in "Moulin Rouge" (1953); a Russian-speaking submarine commander in "The Russians Are Coming, the Russians Are Coming" (1966); and an effusive, overbearing Hungarian linguist in "My Fair Lady" (1964). 
Editors' Picks 
How You Should Change Your Workout Once You Hit 40 
I've Listened to This Breakup Song a Million Times 
Audio Stories are Redefining Pleasure for Women 
He also had a radio show on WBAI in New York, opened two espresso cafes in Hollywood, and campaigned for Mayors John V. Lindsay and Edward I. Koch. 
"I'm sure I could have had a much bigger career had I followed the advice of agents and friends: Stick to one aspect of what you do and stay in one place to do it — California, for example," he wrote. But as it was, Mr. Bikel traveled the world in multiple guises.".......
(Click for full article)
"Internationally renowned and respected as one of the most versatile actors of his generation, Bikel received an Academy Award nomination as best supporting actor for The Defiant Ones (1958), where he played a Southern sheriff. 
Conversant in a number of languages, Bikel's background and versatility led to a wide, multinational range of roles. Often playing authority figures, the native of Vienna starred as a Dutch doctor in The Little Kidnappers (1953); a Germany submarine officer in The Enemy Below (1957); a French general in The Pride and the Passion (1957); Russian military men in in Fraulein (1958) and The Russians Are Coming, The Russians Are Coming (1965); and a Hungarian phonetics expert in My Fair Lady (1964). 
Other memorable feature credits include The African Queen (1951), I Want to Live! (1958), See You in the Morning (1989), Crisis in the Kremlin (1992) and Shadow Conspiracy (1996). 
In The Sound of Music, which opened on Broadway in 1959 and ran until 1963, Bikel earned a Tony Award nomination for his work. The musical also starred Mary Martin as Maria. (Julie Andrews and Christopher Plummer took their parts in the 1965 version, which won the Oscar for best picture.)".......
(click for full article)
"How did I meet Theodore Bikel? Me, a country rabbi? Well, Theo met and befriended many country rabbis and he was sort of a country rabbi himself. 
The real story, however, is that one Rosh Hashanah, years ago, about midway through the service at UCLA Hillel, a man with a big presence arrived; it was Theo. He was there participating, singing, davening while wearing a thick old woolen tallis like one my father, a"h, wore and holding a worn machzor (holiday prayer book) with ivre teitsch (Yiddish translation). When I called the Kohanim for the priestly blessing, he rose to the front of the congregation and proceeded to chant — he was after all of priestly descent; or as I preferred to refer to him, he was Kohen Gadol (High Priest). It was a memorable, unforgettable chant; more like a roar! As the service drew to a close, I went over to introduce myself, and I asked Theo: "Where did that come from?" (I didn't yet know about the depth of Theo's spiritual connection.) He proceeded to explain that his father loved chazanut and that when Theo was young, his father took him to hear many chazanim, whence he learned the classical prayers. 
And so it was that the universal peace-seeking folk singer who inspired us in the '60's was also ne'im zemirot yisrael, a sweet singer in the Davidic tradition, a modern-day psalmist, singing the traditional prayers of his people so as to celebrate their joyous moments and bemoan their suffering.".......